This product is eligible for loyalty program points that lead to cash discounts.
Aegis Boost Pro by Geekvape
Earn up to 39 points.€39.99
Compact and robust, the Aegis Boost Malta Pro kit by Geekvape is also ergonomic with its modern design. In addition, it is guaranteed to be shock and water resistant. This provides the best solution to anyone working in messing environments. It works with an 18650 battery (not supplied) which allows it to reveal good autonomy. It is able to develop up to 100W of adjustable power thanks to a customizable color TFT screen.
The cartridge therefore has excellent autonomy in e-liquid with its 6ml capacity. Finally, it is compatible with all the coils of the P series from Geekvape. The P series coils come in two different resistance. One at 0.2 ohm and the other at 0.4 ohm. Both coils can be used for DtL or Direct to Lung. The 0.2 ohm coil can be used between 60 to 70 watts. While the 0.4 ohm coil is best utilized between 50 to 60 watts. The Aegis boost Malta also offers an adjustable airflow system.
We at Rolling Buddy's Vape Shop in Malta also provide discounts on bulk buying of your P Series coils, you can check them out here. If you are looking to charge your batteries outside of the Aegis boost, we would recommend a Listman Charger.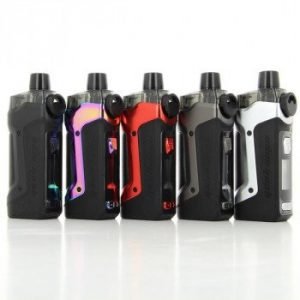 This item:
Aegis Boost Pro by Geekvape