This product is eligible for loyalty program points that lead to cash discounts.
The AIO Joyetech Malta is an ECO friendly kit by Joyetech. Is it a pen or tubular shaped vape which has a built in battery. Thus, an all in one kit. It is small and fits in any pocket. This makes it easy to take with you anywhere if you are a vaper on the go. The AIO joyetech Malta has a 1700 mAh battery which provides for a good battery life with one full charge. The atomizer contains a tank with a volume of 2 mL. It is easily re-filled from the top part. The joyetech AIO also has an air flow control. Thus, one can easily adjust the amount of air intake. The packing is ECO friendly!
The Joyetech AIO uses the the BF SS316 Coil. This coil is made from an alloy from Nickle and Chromium. The down side is the the AIO by Joyetech is only compatible with the 0.6 ohm coil. We at Rolling Buddy stock the BF coils by Joyetech a single coil or else as a pack of five coils. If you would like to grab yourself a bargain, you will save EUR 4.49 on a pack of five coils!
The AIO by Joyetech is available at Rolling Buddy in six different colors:
Blue Gradient
Grey Gradient
Purple Gradient
Red Gradient
Yellow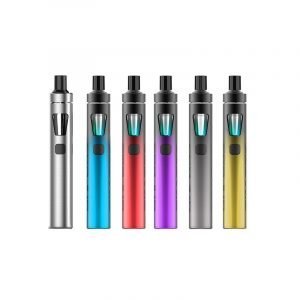 This item:
AIO 1700 mAh by Joyetech