This product is eligible for loyalty program points that lead to cash discounts.
Earn up to 27 points.€27.99
The Novo 4 Malta kit is the very latest pod kit from Smok! Elegant, it also adapts perfectly to the needs of each vaper. It incorporates an 800mAh battery and offers a small OLED screen to adjust its power up to 25W. Easy to use, it is also ideal for MTL vape. The Novo 4 is the only vape of its size and power that allows you to set the wattage. Other re-fillable pod systems have pre-set wattages unlike the Novo 4.
It uses a 2ml cartridge or pod that can be filled laterally. In addition to an adjustable airflow system located at its main button, it works with all LP1 coils for even more unique vape experiences. The LP1 coils come in three different resistances. The LP1 DC coil has a resistance of 0.8ohm. The LP1 Meshed coil has a resistance of 0.8ohm. This coil is suggested for MtL or mouth to lung vaping. This is recommended for anyone who has recently quit smoking and started vaping. This coil is also recommended for someone who has switch from disposable vapes to refillable vapes. The LP1 Meshed coil has a resistance of 1.2ohm.
If you would like to save some money on your Novo 4 Malta coils. Check out our coil bundles here.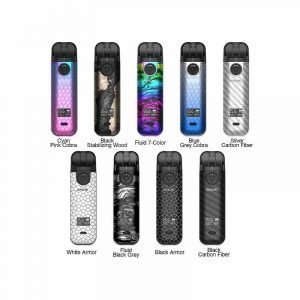 This item:
Novo 4 by Smok