This product is eligible for loyalty program points that lead to cash discounts.
PAX PLUS | Dry Herb Vapourizer
Earn up to 250 points.€250.00
The ultimate dual-use, portable vaporizer. PAX Plus brings the best out of your flower and concentrates in smooth sessions without any harsh smoke.
Includes: Flat & Raised Mouthpieces, Standard & Half-Pack Oven Lids, Concentrate Insert, Multi-Tool, Maintenance Kit, Charge Cable
Enjoy full flower and potent concentrate sessions from one device. Pax Plus, use the included oven lids to adjust your bowl size depending on the session.
Control your sessions with the push of a button using new Experience Modes: Stealth, Efficiency, Flavor, and Boost. All heat, never burn your cannabis.
New 3D oven screen is easier to remove. Redesigned multi-tool and included brush make oven cleaning quick, simple and hassle free.
Enjoy sessions on-the-go with 2+ hours of battery life and a magnetic oven lid to keep your stash secure. Be more discreet with no smoke and less odor from a device backed by a 10-year limited warranty.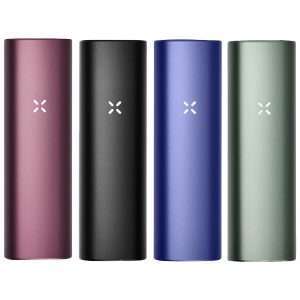 This item:
PAX PLUS | Dry Herb Vapourizer