This product is eligible for loyalty program points that lead to cash discounts.
Riot Squad | S:ALT | Exotic Fruit Frenzy 10 mL
Get all mixed up with this cool tropical fruit fist to the face of cantaloupe and passion fruit, an exotic punch that will make you forget the anarchy of life.
Riot Squad's S:ALT range contains hybrid nicotine. That is a mix between freebase nicotine and salt nicotine. This combo makes a hit closer to a draw on a normal cigarette. Hence, making it easier to switch and stop smoking!
The S:ALT range has been awarded the 'Best Salt' at the 2019 Ecigclick awards
LIVE : LIFE : ALT
PG / VG Ratio – 50 / 50
Available in 5mg, 10 mg and 20mg Nicotine strengths.
High quality E-Liquid made in the UK, now available in Malta through Rolling Buddy's Vape Shop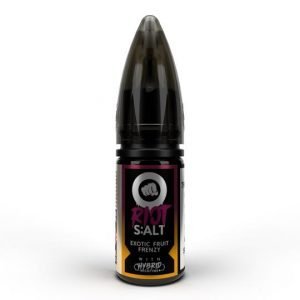 This item:
Riot Squad | S:ALT | Exotic Fruit Frenzy 10 mL