This product is eligible for loyalty program points that lead to cash discounts.
Earn up to 72 points.€72.99
If you're a vaping enthusiast on the hunt for the next upgrade, the Vaporesso Armour Max Kit by Vaporesso is a formidable option. Compact and secure, this kit is a true marvel in the vaping market. Boasting the well-known AXON Chipset, along with an ultra-convenient and user-friendly interface. The article that follows will provide an in-depth look into the Armour Max Kit. Outlining its features, benefits, and what's included in the kit.
"Vaporesso's Armour Max Kit is more than just an e-cigarette, it's a ticket to a premium vaping experience."
Vaporesso Armour Max Notable Features
A plethora of operating modes such as Pulse, F[t], Eco, TC-NI, TC-SS, and TC-TI.
An efficient navigation through a 0.96″ colour TFT screen and two buttons on the front of the box.
Security feature: a lock button above the screen, preventing any unwanted mishaps during transport.
Shaped for convenience: 157 x 56.5 x 34 mm.
Power supply: 2 x 21700 or 18650 batteries (with the supplied battery adapter). We recommend charging the batteries with an external charger.Whether you're a seasoned vaper or a novice looking to immerse yourself in the world of vaping. The Vaporesso Armour Max Kit demonstrates how technology and design can come together to create a superior vaping experience. Continue reading to learn more about this compact, feature-packed vaping kit.
iTank 2
One of the unique attributes of this kit is the iTank 2 Atomiser. A step up from the original iTank. This robust tank can hold up to 8mL of liquid,. Ensuring you can continue vaping without frequent refills. To add your preferred vaping liquid, simply slide the Top Cap slightly and fill the tank. Modify the Airflow to suit your preferred drag intensity using the adjustment options on the base of the Atomiser.
If the iTank 2 Atomiser's standard look doesn't appeal. You can personalise it using the TPU Protection. With six different colours to choose from, you can switch things up whenever you fancy. Not only do these protectors add a dash of style, but they also provide additional protection for your tank.
For a vaping experience that is tailored to your preferences, use this kit's compatibility with the entire range of Vaporesso GTI coils. These diverse alternatives range from 0.15 to 5 ohm and can be purchased separately. From pre-installed coils to additional options, this kit gives you the freedom to experiment with your vaping setup.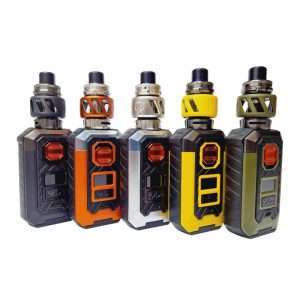 This item:
Vaporesso Armour Max Kit