This product is eligible for loyalty program points that lead to cash discounts.
Frumist – Kiwi Passion Guava 20 mg
Purchase this product now and earn 6 points!€6.50
Wonderfully fruity combination of tropical fruits, prfectly blended with a fresh punchy aftertaste.
You've Guava try this falvour.
VG/PG Ratio: 50/50
Capacity: 2ml
No of Puffs: 600 Puffs
E Liquid Nicotine Strength: 20mg
Disposable Type: Enclosed Pod Kit / All in One Kit / Vape Kit / Mouth to Lung Kit
Vape Battery Type: Built in Battery
Battery Size: 400MAH Battery
Activation:  Inhale with draw firing method / Inhale activation
Ingredients: Propylene Glycol, Vegetable Glycerine and Flavourings.
Advice / Warnings: Store at room temperature, away from direct sunlight. May produce an allergic reaction. Keep out of the reach of children & pets. Seek medical advice if feeling unwell. May contain NUTS. Refer to manufacturer's instructions for filling. If product is damaged, do not use, and refer to Frumist.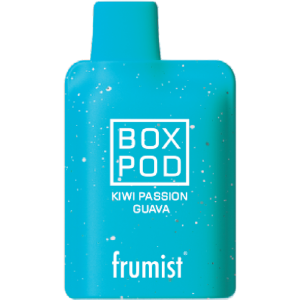 This item:
Frumist - Kiwi Passion Guava 20 mg